We are all things berry! Our family of growers, some of which have been growing berries for many generations, are committed to providing the best tasting berries. Each Wish Farms berry is grown with diligent care. Take a look at what makes each berry fresh, unique, and a vital addition to your menu.
Click on each berry below to learn more!
About Strawberries
Growing fresh strawberries has been the focus of our family business for over 80 years. In order to meet our high-quality standards, each Wish Farms strawberry is handpicked and packed in the field at peak ripeness.
Nutrition
Strawberries are packed with beneficial nutrients like vitamin C, fiber, potassium, vitamin B and magnesium. With approximately 83 calories per cup, this super fruit serves as a healthy treat any time of day.
When choosing the perfect package of sweet strawberries, be sure to look for berries that are:
Stored in a refrigerated display case in the produce department
Strawberries with a bright even red color
Fresh with unwilted leaves (calyx)
Strawberries clean and in a dry container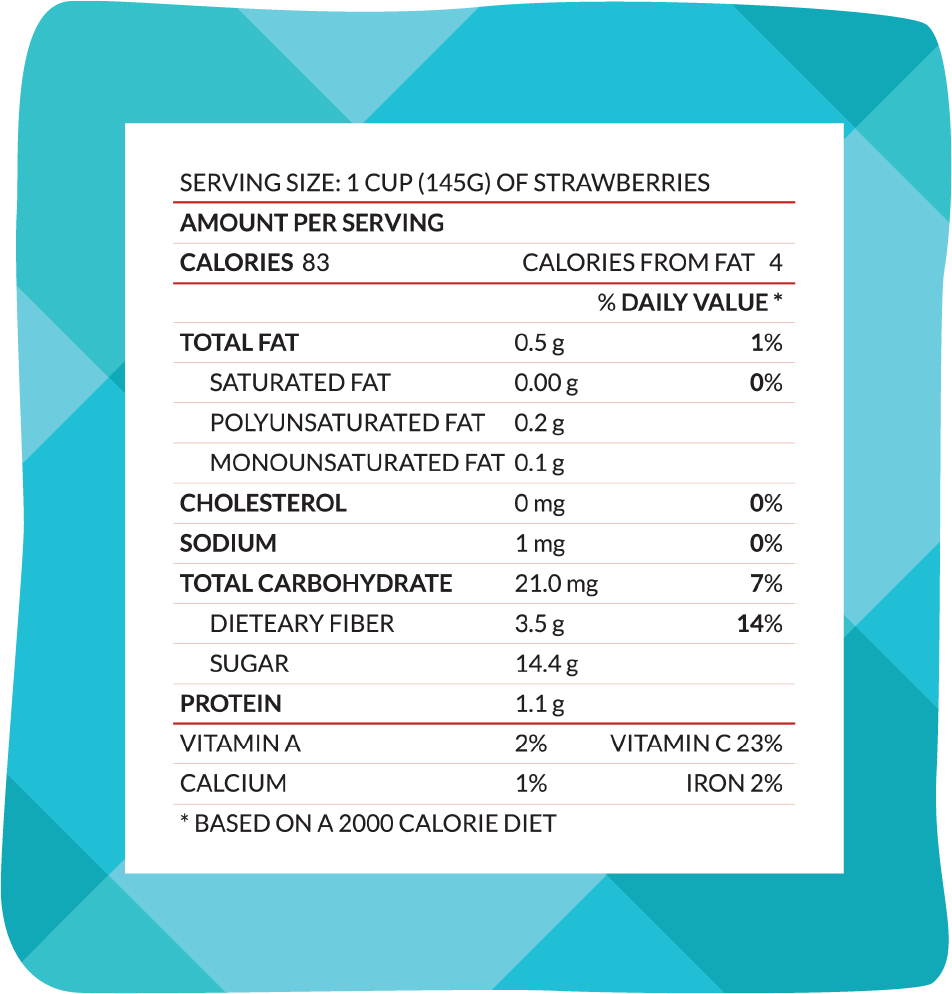 Did You Know?
Strawberries are the only fruit with seeds on the outside. Each strawberry has about 200 of them!
Strawberries do not continue to ripen after they are picked. We always do our best to pick our strawberries at their optimal ripeness so, pick yours at their best, too!
Wish Farms harvests several different strawberry varieties based on the season and growing region. Some varieties are a lighter or darker shade of red. Some are dense in the center and some are hollow and light inside. The tips above will help you select the freshest strawberries.
It takes about 21 days for one bloom on a strawberry plant to become a ripe berry!
Strawberries varieties are bred through traditional techniques. There are no GMO strawberries.
---
About Blueberries
Wish Farms is a leading blueberry supplier, growing the highest quality blueberries and partnering with experienced growers around the globe. Our blueberries are handpicked with the natural sweetness and quality that can only be found in a Wish Farms package.
Nutrition
Not only are blueberries the perfect ingredient to so many recipes or a fresh snack to enjoy, they are a super-food packed with essential vitamins. Blueberries are loaded with Vitamin C and are ranked among the fruits with the highest antioxidant content. Not to mention, they are a naturally sweet treat with only about 80 calories per cup. That's a WIN!
After being hand-picked, blueberries are sorted with the help of a packing line. So that only the best get to your table. When choosing the perfect package of sweet blueberries, always be sure to look for berries that are:
Stored in a refrigerated display case in the produce department
Are a plump and round shape; size will vary and does not reflect the freshness
Blueberries in a clean and dry container
Blueberries free of shrivel, dents, or bruises
Did You Know?
Studies have shown that consuming one cup of blueberries provides the recommended amount of antioxidants required in a day!
The ideal sheen of fresh blueberries should have a soft dusty white coating called "bloom."  Bloom is a natural part of the growing process.  It provides a defense mechanism helping to protect blueberries from harsh sunlight.
We like to recommend eating blueberries in bites of THREE. Some blueberries are extra sweet and some more tangy. This allows you to get the full, true flavor of the variety.
Blueberries get their "blue" color from a pigment called anthocyanins. Anthocyanins contribute to the blueberry's health benefits. Plus, who doesn't love the fun color?!
Blueberry plants are harvested for multiple consecutive years, unlike strawberries, which are harvested for one season and a new plant is grown each year.
Blueberry varieties are bred through traditional techniques. There are no GMO blueberries.
---
About Raspberries
Wish Farms raspberries are the newest addition to our berry family and, since their premiere in 2017, we can say they complete our berry patch! With hard work and a passion for providing the best tasting raspberries year-round, we continue to grow and develop the sweetest varieties.
Nutrition
Not only are raspberries delicious, they're an exceptional superfood that can be enjoyed guilt-free. Bursting with Vitamin C, fiber, antioxidants, and more, raspberries make a great addition to your menu. Plus, they only contain a slim 65 calories per cup. Enjoy!
As a raspberry grower, Wish Farms takes great care in picking our raspberries so that you get the most delicious berry possible. They are a delicate fruit that are carefully picked by hand and fresh packed in the field.
When selecting raspberries, it is ideal to choose:
Raspberries stored in a refrigerated display case
Clean berries in a dry (not leaky) container
Plump and red raspberries (varieties may vary in color darkness)
Raspberries free of shrivel, dents or bruising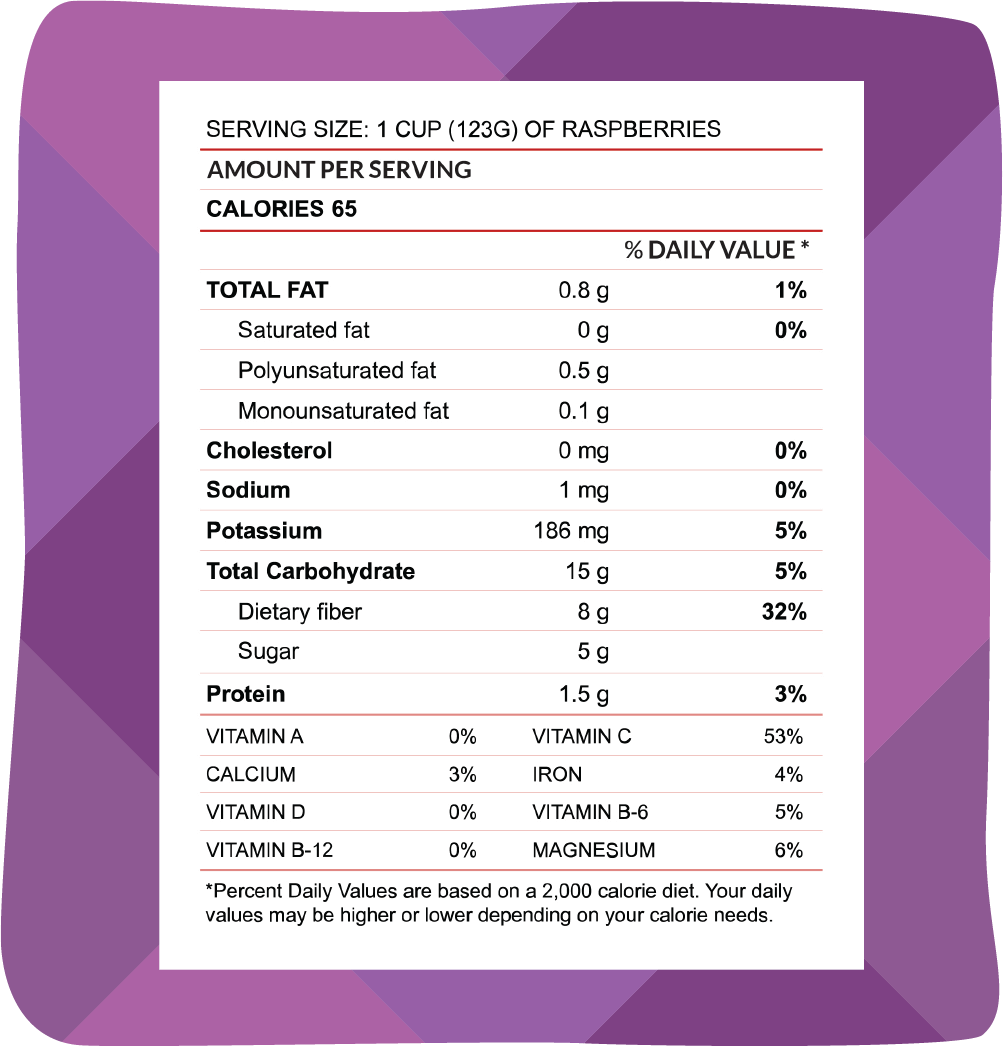 Did You Know?
A cup of raspberries contains more vitamin C than an orange!
Raspberries are ranked the highest fiber-containing fruit!
Raspberries grow on a bush plant that has several fruit-producing canes (branches).
Raspberry varieties are bred through traditional techniques. There are no GMO raspberries.
---
About Blackberries
Since 2016, Wish Farms' handpicked blackberries have stolen hearts with their complex and sweet flavor. Sun-ripened to perfection, our conventional and organic blackberries are available year-round and grown throughout North and South America. Our unique varieties make for a sweet addition to our berry family!
Nutrition
Blackberries are a healthy source of antioxidants, Vitamin C, and fiber.  One cup contains about 40 calories, filling your body with vitamins and sweetness but without the guilt!
Blackberries are handpicked then sorted and packed by hand right in the field! We want you to pick the best just like our farmers do. When selecting blackberries in your local grocery store, be sure to look for:
Blackberries stored in a refrigerated display case within the produce department
A very dark plum color (red or purple berries are not ripe)
Clean berries in a dry container
Blackberries free of shrivel, dents, and leakage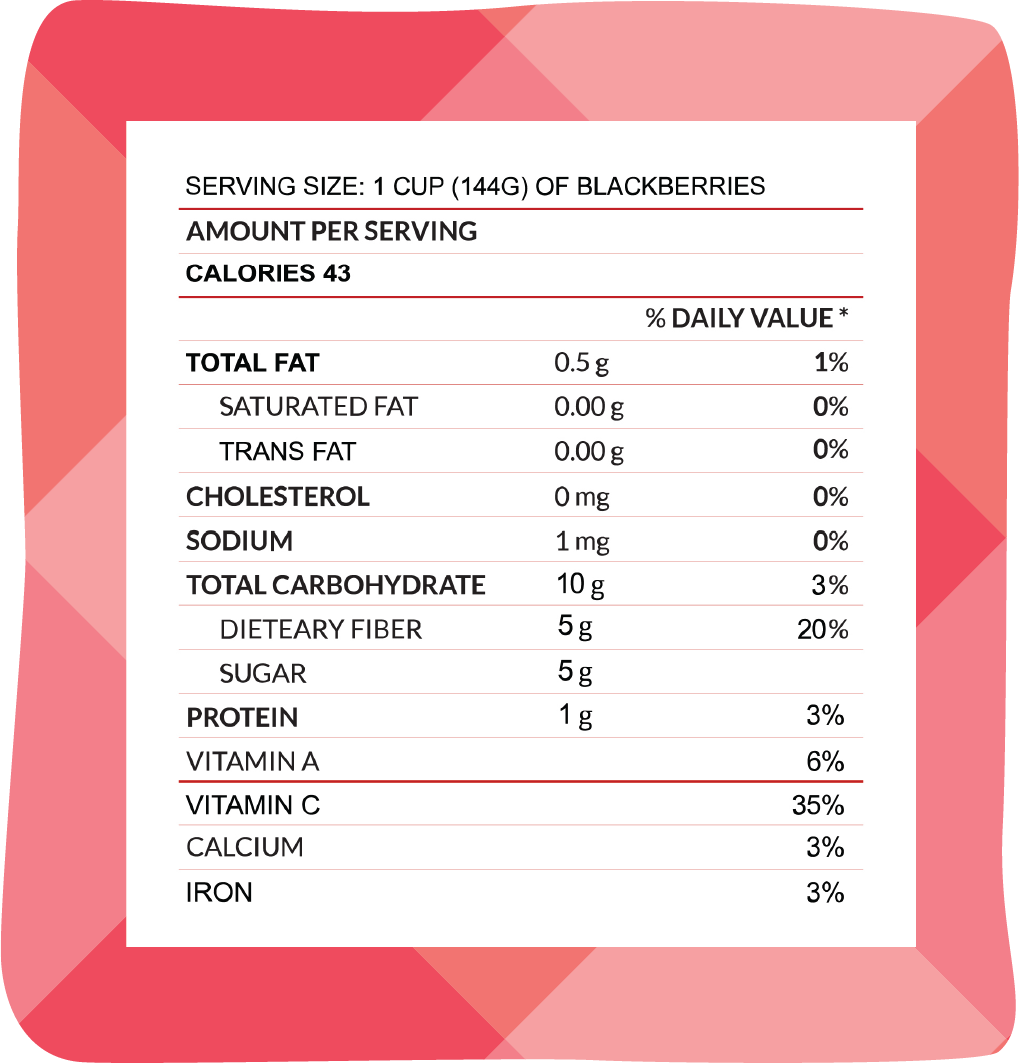 Did You Know?
Blackberries are known to contain vitamins that protect our bodies against age-related diseases, cancers, and inflammation. No wonder you feel young again when eating a sweet blackberry!
It takes a blackberry about 30-40 days to go from a flower to fruit; depending on weather.  This is a few days longer than a strawberry and about the same as a blueberry.
Out of the four berries – blackberries and raspberries are the best fruit if you are on a Ketogenic (Keto) diet; a low-card high-protein diet.
There are some blackberry varieties that have thorns – thus the name bramble, which is defined as any rough, tangled, prickly shrub.  Newer blackberry varieties are thorn less.
In addition to thorn/thorn less blackberry varieties, breeders have developed new Primocane varieties.  These blackberry varieties bear fruit on the same year branch; no need for the plant to go through winter to receive "chill" hours.
Blackberry varieties are bred through traditional techniques. There are no GMO blackberries.
---
About Pineberries
A pineberry is like a strawberry, but different. Some people call them white strawberries, but Wish Farms calls them Pink-A-Boo® Pineberries, because they turn a pink blush when they get exposed to the sun and become fully ripe and ready to eat
Pineberry Nutrition Benefits
Pineberries are very similar to red strawberries when it comes to nutrition. That's a great thing, because strawberries are a superfood! Not only are Pineberries a filling, low calorie food, they are also a good source of:
Folic Acid. This promotes brain health, reduces heart disease, and helps your body produce and maintain new cells…among other benefits!
Phosphorus. This promotes strong bones, teeth, muscle recovery…and more!
Vitamin C. We all know it helps boosts immunity, but did you know it helps manage high blood pressure, may reduce the risk of chronic disease, promotes macular health, and helps collagen creation?!
Did You Know?
Pink-A-Boo® Pineberries are naturally grown and non-GMO. The berry gets its unique color because it lacks the naturally occurring flavonoid compound called Anthocyanin that are ever present in red strawberries.
---